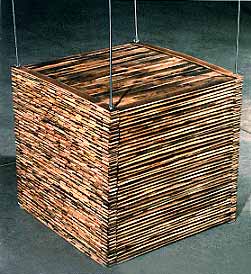 Loaded with our three year seasoned French, American or European Oak Staves, the Matrix integrates subtle, elegant oak flavors into your wines with the same balanced level as new barrels.
To achieve new barrel extraction level, add 1-44 sq. ft. Oak Stave packet per 180 gal. (1-4.1 sq. m. Oak Stave Packet per 681 l.) of wine. For example, in a 9,000 gal (34,065 l.) tank, fill 2 Matrixes with 50 of our 44 sq. ft. Packets.
Due to the efficient usage of oak surface area, our Tank Matrix is a practical, economical and ecological tool. Used as prescribed to its full potential, our cost costs five to ten times less than the initial cost of barrels. Your winery will also reduce costs in labor, logistics, warehouse space, electricity and water.
Depending on the number of barrels in a typical warehouse, the savings from reduced ullage alone can range from tens of thousands to hundreds of thousands of dollars per year.