The process flow below is recommended to maximize color and middle body in red wine. The first step is the addition of toasted oak in the fermentor to provide the compounds which can aid in co-pigmentation. Additionally, toasted oak provides compounds to initiate the stabilization, through crosslinking, of procyanidin or prodelphinidin oligomers and polymers and anthocyanins.
Aeration (macro aeration) can aid fermentation in three ways: first, by providing oxygen as a nutrient which aids in cell membrane integrity; second, by creating semi-oxidative conditions to minimize the yeast's production of H2S; third, by producing small amounts of acetaldehyde which also assist in initiating stabilization of color and tannins.
Pressing off onto toasted oak will provide even more compounds to enhance the stabilization of color and tannins.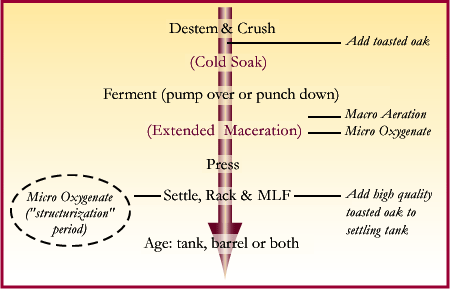 After primary fermentation is completed and the wine is racked clean, micro oxygenation can begin. This stage, noted above with a dashed oval, is what the French refer to as structurization. However, few California wineries are able to complete the structurization process before MLF occurs. We recommend the typical winery process, allowing MLF to finish, with StaVin Oak Integration Systems in the tank.

The combination of toasted oak implemented in the fermentor, macro aeration during fermentation, and pressing onto toasted oak, provides much of the same effect as would the structurization process. This technique integrates harmoniously with the way winemakers currently produce their wine, rather than imposing an expensive change on their accustomed methods.